Are you looking for a payment processing solution that is as seamless as possible?
Square was founded in 2009 with a simple mission – to make commerce easy for everyone. And they've been doing just that ever since. With Square, there are no long-term contracts and no hidden fees. You download the app, sign up, and start accepting payments from your customers. It really is that easy.
With Square, you can track your sales and inventory in real time, so you always know what's selling and what needs to be restocked. Plus, their intuitive dashboard makes it easy to see how your business is doing at a glance.
By the end of this Square review, you'll know everything you need to know about Square and whether or not it's the right payment solution for your business. You'll also have a chance to get started with Square if you're ready to take your business to the next level.
Keep reading to see how Square makes payments seamless and efficient.
Square Summary
---
Square is an innovative payment solution that provides businesses and individuals with a powerful set of tools to streamline their payment process. With custom plans that are tailored to your individual needs, you can customize how you accept and process payments. Additionally, Square provides comprehensive insights, analytics, and integrations that allow you to get the most out of each transaction. Whether you're a small business or an enterprise customer – Square has the perfect solution for you!
Easy to Get Started with a Square Account
Easy to apply and set up your online account.
Omnichannel Commerce Tools
Commerce tools for payments, POS, online, and integrations
Vast Array of Tools
Many more tools for appointments, staffing, customer management, and banking
Scalable plans
Easy to scale your plan as you scale your business
Feature-packed Business Plans
Business plans geared towards your business type
Flexible Hardware Solutions
Multiple POS systems for retail, restaurants, ecommerce, and more.
Overall Rating:
4.3 / 5
Starts at $0/month
This site is supported by its readers. If you purchase through a link on my site, I may earn a commission. For more information see my Disclosure Policy
My Experience With Square
When I worked for a large payment processor, we developed an app that used a card swipe device connected to your phone's headphone jack. While revolutionary at this time, we failed to capitalize on the system. But you know who did? Square. Better marketing, I suppose. Square's card reader and mobile app soon became everywhere.
My favorite feature (as a Square customer) is the email receipt I receive once I pay for something. When I use a credit card already in their system, they have my email address on file. The credit card number is encrypted when you pay for something in the Square system. This encrypted value is compared to their database of encrypted numbers, and the merchant can use the customer details to send emails, etc. Like my email receipt.
If this all sounds like gibberish to you, don't worry. All this means is that the data is encrypted, but you can manage your customer. Square is fully PCI-compliant, so you don't need to worry about data security.
Those are my experiences – let's see what others are saying about Square.
What Customers are Saying…
Square has a 3.5-star rating on Consumer Affairs out of 3023 reviews, 4.2-star rating on Trustpilot for 3278 reviews, and a 1.1-star rating on the Better Business Bureau or 535 reviews.
Most of the negative reviews are centered around Square holding funds or freezing accounts while waiting on additional information. This is a risk and you should do your due-diligence before using any payment processor. There were also several complaints about Square not helping with the chargeback dispute process.
What is Square?
Square is a payment solution founded in 2009 by Jack Dorsey, co-founder of Twitter. Square has become an industry leader in the payments space. With its easy-to-use platform and built-in security features, Square makes it simple for businesses of any size to securely accept credit card payments and process transactions quickly and efficiently.
Square's comprehensive solution makes it easy for you to securely accept all types of payments, not just credit cards. As a result, you no longer need to worry about the hassle of complicated payment systems or setting up a merchant account. Instead, all you have to do is connect your account and begin accepting payments right away.
Square has become an essential tool for small businesses around the world. However, it's also gained immense popularity with larger enterprises and services-based businesses such as legal firms, accounting offices, and home repair companies. These diverse companies benefit due to their excellent benefits in terms of speed, efficiency, and security.
Over the last decade, Square has completely revolutionized how people conduct business. You've probably noticed – Square is everywhere, in all types of stores and businesses across the world.
Square Payments is an effortless and convenient way to start accepting payments – no contracts, no monthly fees, and no minimums. Their cloud-based POS system makes it easy to manage transactions from anywhere, on any device. With Square Payments, you can get up and running fast. So you can focus on growing your business instead of worrying about paperwork.
Thanks to the host of new innovations introduced by Square over the last few years, merchants will be able to process payments faster than ever before while keeping customers' data safe and secure.
Who is Square for?
Square is the perfect payment solution for businesses of all sizes and industries. With its secure payment processing systems and easy-to-use tools, Square can accept payments from anywhere at any time with unparalleled efficiency. This makes it an ideal choice for businesses of all shapes and sizes, from small mom-and-pop stores to large corporations.
Food and Beverage
Square is an invaluable asset to businesses in the food and beverage industry, providing a comprehensive set of features to cater to all types of eateries. So whether you own a full-service restaurant, quick-service establishment, fast-casual joint, bar or brewery, or even a ghost kitchen, Square has something for everyone.
With its robust point-of-sale (POS) system, restaurants can process payments quickly and securely while providing customers with an efficient checkout experience. The mobile POS system offers added convenience, allowing businesses to take orders and process payments anywhere they go. Have you ever been to a restaurant where you can check out at the table? This uses a mobile POS system. This is more convenient for you and the wait staff.
Additionally, the kitchen display gives staff visibility into orders, ensuring everyone is on the same page throughout the cooking process.
Finally, its powerful online ordering system allows customers to place orders directly from their phones or computers, making it easy for them to get their food delivered quickly and conveniently.
Square's innovative solutions make it easier for restaurants to accept payments and manage their operations.
Retail
Square Retail Services offer an easy and efficient way for business owners to take payments, manage inventory, support staff and customers, and streamline operations. With its "Sell Everywhere" feature, customers can accept fast payments (including AfterPay) anywhere in-store or online via a free Square online store.
The comprehensive suite of features makes it easy to keep track of inventory and never run out of stock while also providing the ability to offer in-store pickup and shipping. Square's innovative features also make it simple to know and engage customers and keep people coming back with loyalty programs.
Finally, Square makes it easy to connect all your systems and view insightful analytics reports on sales performance, customer behavior. You can also access your money immediately without waiting for deposits.
More businesses than ever will be relying on the innovative capabilities of Square Retail Services.
Beauty
Square is the perfect solution for beauty businesses looking to manage their appointments, market their services, and accept payments.
Their Square Appointments is intuitive management and scheduling software. This makes it easy for beauty salons, hair salons, nail salons, and day spas to streamline operations. This free booking website makes it easy to integrate into your personal website or social media page. The color-coded appointment scheduler in Square Appointments helps you stay organized while keeping customers informed.
Plus, with the ability to send messages directly through the Square platform using Square Messages, it's simple to communicate with clients before they arrive. And best of all? Their flexible payment options make it convenient for customers to pay when they're ready.
Lastly, team scheduling helps everyone coordinate days off and manage customer bookings more efficiently.
Services
Square is the perfect platform for service businesses, helping them get paid faster and more efficiently. Professional services, home and repair services, and health and fitness businesses – can all benefit from Square's tools.
There are multiple ways to help your service business get paid faster:
Send digital invoices using email and SMS
Enter and manage payments with a virtual terminal
Take any payment with the Square payment hardware solutions – from cash and check to credit, debit, or contactless NFC payments like Apple Pay or Google Pay.
Square Estimates helps improve digital estimates with better client service by creating accurate estimates before clients arrive at your business.
Scheduling appointments is a breeze with a user-friendly booking system. Plus, you can see customer information and purchase activity in one place. This helps you analyze data that leads to more intelligent business decisions.
And because payments are quickly deposited into your bank account, your cash flow is improved immediately.
Large Organizations
Square provides a ton of flexibility for large organizations.
With enhanced user-friendly experiences, easy launch and maintenance, and PCI compliance services, you don't have to worry about security or risk management.
And with customized plans that allow you to pick your processing rate and no hidden fees, it's easier than ever to stay in control. Plus, you can connect payments, customers, and staff with their tools. Are you more interested in controlling your user experience? You can use Square's APIs to customize how users interact with your products.
With insights from customer data as well as communication tools for marketing to them directly, Square has everything an organization needs for processing payments.
What benefits does Square provide?
There are numerous benefits to using Square as your payment provider. Here are some of my favorites.
Easy to Get Started with a Square Account
With Square, getting started is incredibly simple! There's no signup fee, and you only pay when you process a payment – so there's no cost to get started.
Plus, you can link your bank account to Square and start accepting payments in just a few clicks. They make it easy to begin with their payment solutions – so you can get started without hassle.
Omnichannel Commerce Tools
They offer several omnichannel commerce tools:
Point-of-sale solutions:
Square Point-of-Sale
Square restaurants POS with built-in floor plans and ordering features
Square Retail POS with inventory management, sales, and staffing features
Square Appointments with scheduling features and a free online booking site
Sell Online:
Online store where you can create a customized site
Online ordering for food from Google, social, or QR codes
Online checkout with payment links, buy buttons, and QR codes
Payment integrations with Square Payments
Payments:
Online payments with a free online ordering site, sell on social or integrate online payment with your existing website
In-person payments at your counter or on the go
Remote payments with digital invoices and pay online, by credit card, ACH bank transfer, and more
Phone payments using Square Virtual Terminal
Integrations
WooCommerce, WIX, GoDaddy, Zero, Acuiity, Mailchimp, Postmates, Quickbooks, Tave, TurboTax
Vast Array of Tools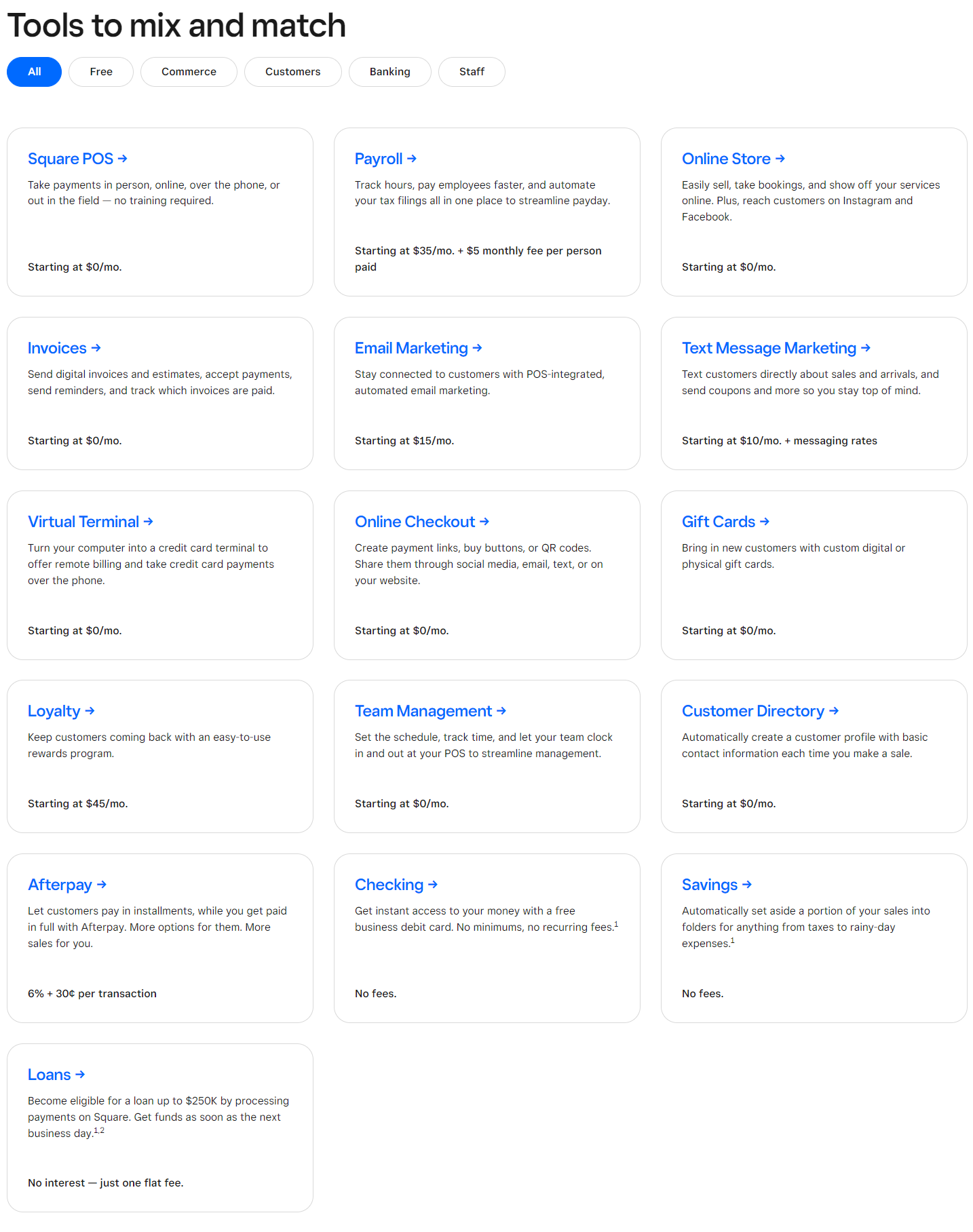 In addition to its commerce tools, Square offers several tools to make your business work better.
They also have tools to manage your customers. For example, marketing tools, loyalty programs, and free CRM software are built into Square payments. And you can offer Square gift cards for your customers.
Square Banking offers payments, banking, and cash flow in one package. You can access your funds in your Square Checking account as soon as you make a sale. You can spend the money instantly with your Square Debit Card. In addition, you can access a high-yield Square Savings folder. Do you need a loan? You may be eligible for a Square Loan and automatically repay it through your sales.
It is easy to manage your staff with Square Staff for managing payroll, your teams, and their shifts.
Scalable plans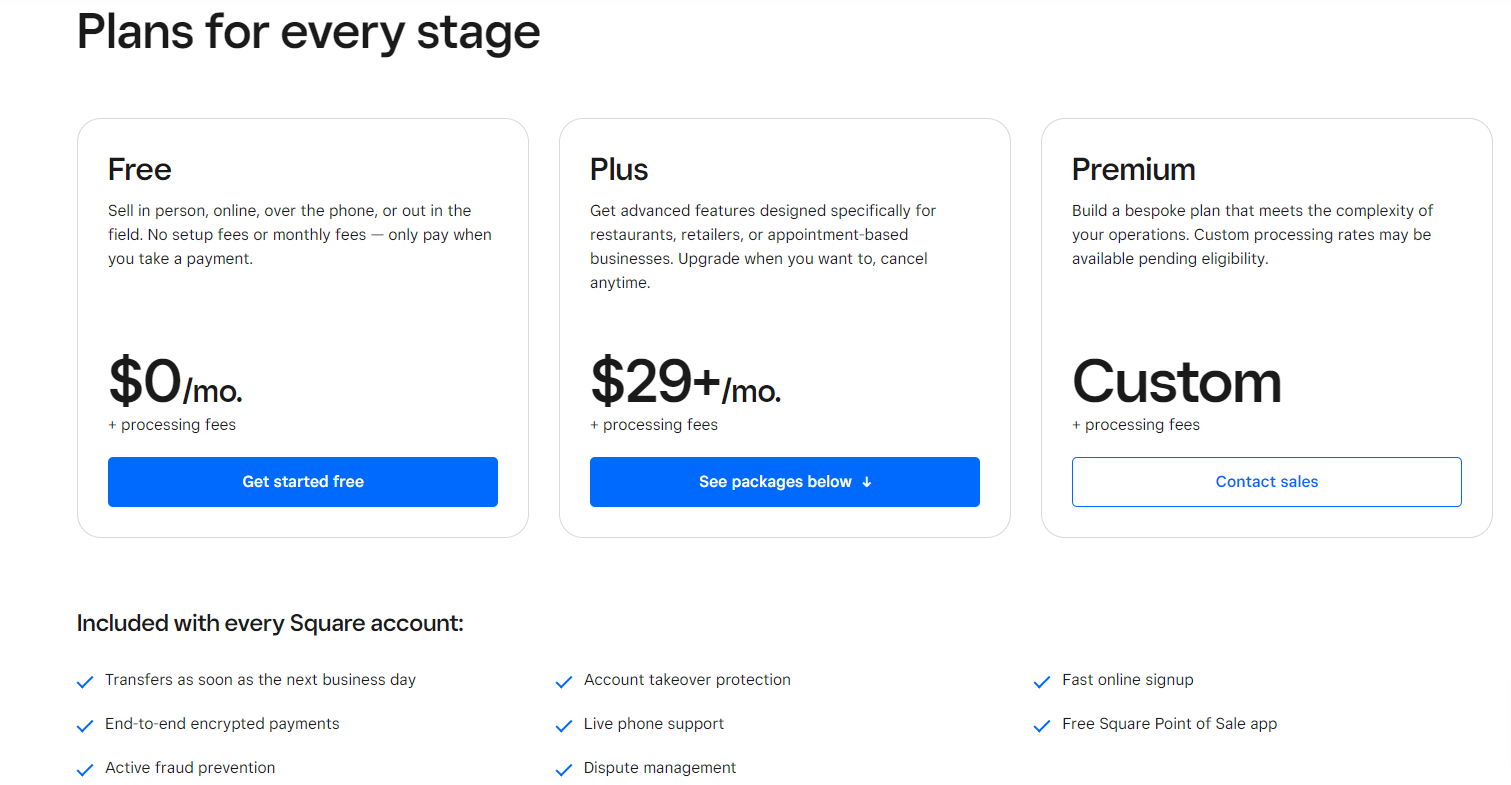 Every business can scale its plans as its business grows. Each business package includes a free plan, a plus plan, and a premium one. See prices below.
Each plan includes:
Transfers as soon as the next business day
End-to-end encrypted payments
Active fraud protection
Account takeover protection
Live phone support (hours may be limited depending on your plan and your business package)
Dispute management
Fast online signup
Free Square Point-of-Sale app
Feature-packed plans for all businesses
No matter what type of business you run, Square has a plan to help bring your payment processing to the next level. They offer feature-packed plans for businesses of all sizes, from small businesses to enterprise customers.
Their flexible payment solutions are designed to fit your needs – whether running a retail store, providing services for an event or show, or even just getting started with an online store.
With Square's comprehensive suite of features and tools, you can take advantage of powerful insights, custom analytics, and more – so you can maximize your earning potential while growing your business.
Flexible hardware solutions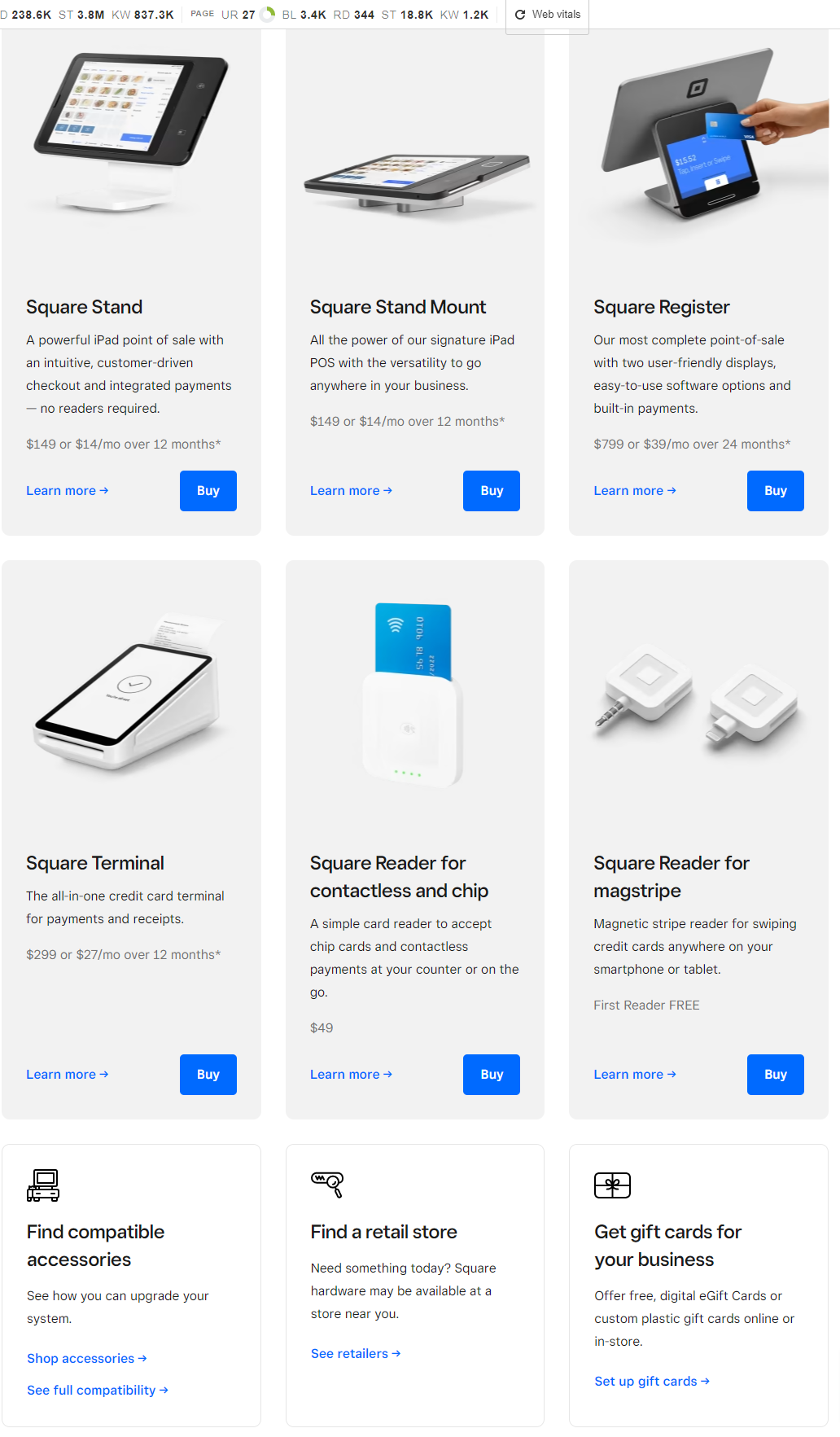 Square offers a wide range of flexible hardware solutions to help you customize your payment systems. From basic card readers to full-featured cash drawers like the Square Register and scanners and pin pads (Square Terminal), you'll find everything you need to securely process transactions in style. Plus, with their easy-to-use cloud software and app integration, it's just as simple to manage your payments on the go. The prices are reasonable, whether you are getting individual equipment or bundled kits.
They make it easy for you to customize the perfect setup that best fits your customers' needs. Whether you're running a retail store or providing services at an event or show, they've got the perfect hardware solution. So you can keep accepting payments quickly and securely.
Square Pricing – How Much Does it Cost?
Square Payment Processing Fees and Rates
Square's pricing plan is designed with transparency and simplicity in mind. They offer a single flat fee for every transaction, without any hidden fees or complicated calculations. That means you don't have to worry about surprise charges, so you can focus on running your business.
Their competitive rates are tailored to give your customers the best value – and their clear and straightforward pricing makes it easy for you to manage your costs. With Square Payments, it's easy to get the most out of your transactions – with no contracts or monthly minimums.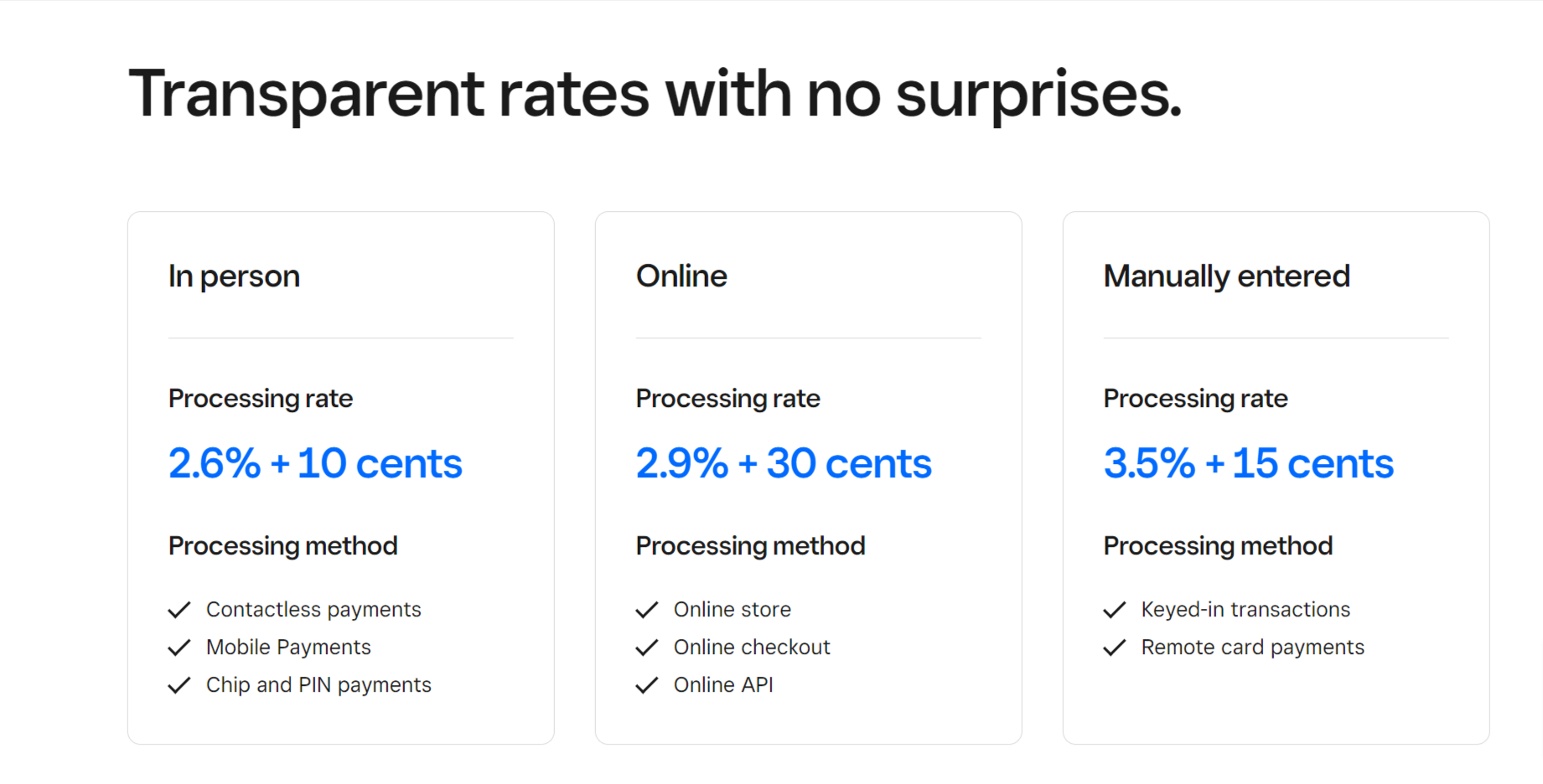 Can you save money with Square? Use their fee calculator to estimate your monthly fees.
Square's rates are based on the flat-fee model. While this model makes it easy to understand, if you process a high volume of transactions, you may pay more than with other processors. Just something to keep in mind.
Square offers bundled kits tailored to specific needs.
Square Alternatives
There are many alternatives to Square: Clover, Lightspeed, and Toast.
Frequently Asked Questions
Conclusion – Is Square Worth It? Ellen's Take.
When it comes to deciding if Square is worth getting, it really depends on your individual needs.
Square provides business tools and analytics that can help streamline the payment process. The cost of using Square may be higher than other providers in some cases. However, it could still provide better value when considering features such as custom integrations and powerful business insights.
Ultimately, only you can decide what works best for your unique situation – so consider all of the pros and cons before deciding which payment provider to use. However, I believe Square is worth exploring because of its comprehensive features.